They call it the hill country
I call it beautiful
I call it progress if it could be saved
They call it the hill country
I call it home

-Randy Rogers Band
Have a weekend to spare? Looking for the ultimate Texas Hill Country road trip starting from San Antonio? Fortunately, this short drive through the Hill Country won't disappoint.
They say home is where the heart is, well I left my heart in the Texas Hill Country years ago, and finally moved out here to retrieve it. There's something about these rivers and hills that keeps generations of Texans coming back year after year. Maybe it's the diversity of the landscape, the mind-blowing parks, iconic monuments, and historical landmarks. Or possibly, it's the small town charm, local mom and pop eateries, and fabulous shopping and antiquing. These destinations are within hours of San Antonio, yet you'll feel like you're in a totally different place. 
Starting in San Antonio, we'll make our way through some of the best stops in the Texas Hill Country for the perfect weekend getaway (and you'll be back in time to rest before work on Monday!). If you're looking for road trippin' weekend adventure, grab yer boots, and let's get goin'. 
Day 1
San Antonio to Bandera
Bandera is considered to be the Cowboy Capital of the World and you better believe it lives up to its reputation.
From the old west architecture, to western wear shops, and bbq joints, this place is full of cowboy nostalgia. Be sure to check out the Frontier Times Museum which homes a fascinating collection of prehistoric arrowheads, bells, a shrunken human head, and mounted animals. After shopping through main street, grab a cup of coffee at Cavanauh Coffee Co, a super cute coffee shop located on the upper floor of an old west saloon building. 
Bandera to Utopia
After exploring Bandera, you will head to Utopia which is situated in panoramic Sabinal River Valley, a Texas gem with endless rivers and rugged canyons to explore.
Stop at Lost Maples Cafe for lunch and enjoy the eclectic rustic vibes and delicious food. The Lamb Sliders are a fave, and you won't want to miss the homemade pie. If you're driving through on a Saturday, The Laurel Tree is a gourmet dining experience offering a four course prix fixe meal. They're only open on Saturday, and you'll need to book reservations in advance. It's a great option if you're looking to celebrate something special.
View this post on Instagram
View this post on Instagram
Utopia to Concan/Garner State Park
Your next stop is Garner State Park which stretches over 1774 acres of picturesque Hill Country Terrain, surrounded by 11 miles of trails to explore.
The park is filled with a plethora of camping options from screened shelters to campsites. After you check in, you can then head down to the Frio River located in the park where you can try out a true Texas tradition; Floatin' the Frio. If you visit during the hot summer months, you can also put some lounge chairs straight into the river, the preferred option of us lazy folks who just want to sit in one spot to cool off. In the cooler months, the hiking is to die for. The park does reach capacity during the summer months, so be sure to book your day pass in advance, otherwise you might not be able to get in.
If you're not the camping type, check out the funky glamping options that we offer at The Inn Between (we'd love to host you!). While you're here, cool off with a mangonada from our Mangonada Bus.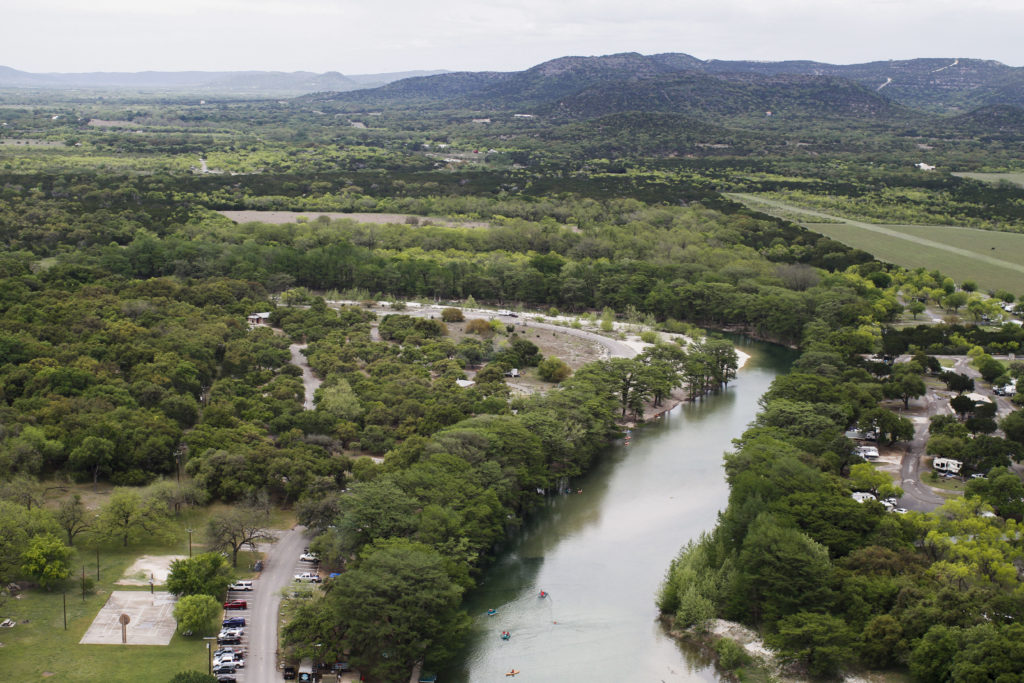 View this post on Instagram
View this post on Instagram
Day 2
Concan to Vanderpool
From Conca, you are going to make a quick day trip to the Lost Maples State Natural Area which offers plenty of wandering hills and canyons to explore.
The area is also considered to be one of the most beautiful places to visit in Texas and you will love its rich maple trees (especially in the Fall). The drive alone is breathtaking! *Pro Tip: If you've visiting in the Fall, be sure to book a day pass well in advance, the park tends to fill up on the weekends.
Vanderpool back to Concan
If you're not tired from hiking at Lost Maples, you can head back to Garner State Park since your state park day pass is good at both parks. Be sure to take a different route back to Concan, there are two different routes from Concan to Vanderpool and both are stunning. If you're looking to shop, check out Frio's Dry Fifty, Loca on the Frio, Josh's, and Andy's. The Concan Nursery is a great local nursery if you're a fellow plant lover. If you've had enough eating out, this would be a great night to relax, and enjoy the stars while you bbq at your lodging or campsite (for excellent fried chicken and chicken salad stop by the Concan General Store, and bring it back to the glampsite for a picnic).
If you're still looking for adventure, the Frio Bat Flight is an up close and personal nature experience that you won't want to miss. Millions of bats flying out of a cave and directly over your head. It's magical!
View this post on Instagram
View this post on Instagram
Day 3
Concan to Camp Verde
Your next stop Camp Verde for breakfast or lunch at the Camp Verde General Store. Enjoy the delicious food, and the two story general store full of all kinds of treasures. The drive is absolutely gorgeous, and be sure to keep your eyes open for various wildlife and exotic animals along the way. You could see anything from axis deer, antelope, llamas, buffalo, or even zebras along the fence lines of the ranches in the area.
Camp Verde to Comfort
If you're looking to shop or antique, Comfort is where it's at. If you're still hungry there are plenty of great local eateries. For instance, Food For The Soul Bistro offers delicious sandwiches and soup. Additionally, the restaurant is attached to the adorable Salvaged Souls Vintage Market, so you can eat and shop at the same time! During this stop, be sure to plan for lots of shopping, the town is full of great local shops.
Comfort to San Antonio
Now it's time to head on home, and plan your next trip. If you're not ready to go home yet, stop in Boerne for more fabulous shopping and endless restaurants. This road trip from San Antonio through the Texas Hill Country should be just what you need to get your nature fix.